HBXL Building Software has been helping builders excel for 20 years!
The company came into being in the year 2000. The same year the Y2K Bug didn't end the world, when the International Space Station was inhabited for the first time, Tiger Woods became the youngest golfer to win all four Grand Slams, Harry Potter And The Goblet Of Fire became the fastest-selling book ever…
And over the past 20 years HBXL Building Software has come a long way.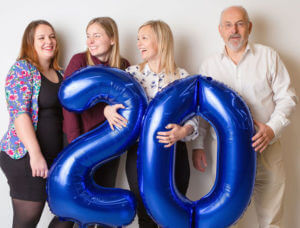 Today our family business has thousands of software users right across the UK, from Penzance to the Shetland Isles. We have more products, and a much bigger crew – highly knowledgeable advisors, a super supportive help team and invaluable software developers. We've also won a good few awards along the way.
WHAT'S NEW FOR OUR 20TH ANNIVERSARY?
We have lots planned for our 20th Anniversary year. Offers, competitions, new versions of software, new features, even more free training, certification to recognise your software prowess…
AND FOR 2020, A NEW USER PACK
So whether you buy software outright or start subscribing, you'll receive a welcome pack which will include:
 A set of vouchers including window and door discounts from our partners

 

Crystal Direct, free training with

 

Videotile, free

 

business mentoring, a discount on the Self Build & Design magazine, money-off our

 

Estimating Service

 

and much more.
Marketing support for your business – eye-catching promotional stickers for the back of your vehicles, HBXL logos and text for your website. Plus case studies that you can promote on your social media channels…
We're so much than software – we're here to help you achieve success in any way we can.
BUILDING A GREAT BUILDING BUSINESS TOGETHER
Of course it's a team effort.
We want your success as much as you do. For our part we invest heavily in developing straight-forward, cost-effective, and importantly, stress-relieving software tools – tools that fix admin problems and help make busy construction businesses run smoothly and profitably.
And we wouldn't be where we are today without the support of our users. They tell us what they like in the software and what they don't, and importantly, what they'd like us to include in the future.
The feedback for our software and support is great! It's what sets us apart…
…The speed at which we respond to questions, the 'above and beyond' help the support team provides, the care we take to ease new users into the software. We'd never take your money and run!
And we also have a lot of time for building firms who have had their fingers burnt elsewhere – helping them restore their faith in construction software with our money-saving scrappage scheme.
Everything we do is delivered in a straightforward way. How can we put it? We cut the c**p and without any smoke and mirrors, explain our software in a friendly, no bull kind of way. Ultimately, we want to help you spend less time on building admin and more time on your building projects.
Your building skills.
Our building software.
If you're not already one of our software users, come and join the family. Request an online demonstration or trial the software for 14 days. Or give us a call to tell us about your business on 0117 916 7898. Let HBXL Building Software help you excel in 2020.
---
---