Want a successful building business in 2020? Well if you want to grab the new year by the scruff of its neck and make it the best it can be, then read on. We've written a 20-point action plan to help you on your way.
And if the following seems daunting and even unattainable… do not worry! There's nothing on the 20 'to-do's that can't be solved by HBXL Building Software. EstimatorXpress, PlansXpress, Health & Safety Xpert, ContractsXpert and ProjectXpert – they've all got your back.
Like it or not, to win the work, increase profit and grow the business – you need accurate number-crunching, consistency, consistency, consistency, proper project management, detailed documentation and contracts, and outstanding customer service.
Our clever software tools will fix the cracks in your admin. We'll help you build the business, so you can concentrate on building extensions, loft conversions, houses…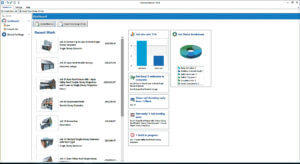 If you want a successful construction business in 2020 then have an online demonstration with one of the HBXL Building Software team in this our 20th Anniversary year! And if you need more time you can trial the software for 14-days. Call us on 0117 916 7898.
YOUR 20-POINT ACTION PLAN
Make sure your quoting is accurate. You risk putting your hand in your own pocket to fund your mistakes. It'll all start adding up.
Don't use unreliable estimating software, error-prone spreadsheets, pen and paper, or average cost of a m2. Get yourself professional, proven estimating software. (OK, unashamed plug for our own EstimatorXpress).
Account for every last item in your costing. Every single material. Every last screw, sheet of plasterboard, tube of glue. No slacking.
Material prices keep going up. Use the latest ones. Put them into one material list and use it for negotiating a discount with your builders merchant.
Use current labour rates – if you can't get a price out of your subbies then you'll have to err on the cautious side. Otherwise it will bite you on the bum.
Factor in wastage, along with wear and tear on equipment, plus inflation – these are all costs that when ignored will impact the bottom line.
Apply a profit. Yes even after including all the above. And make it a decent one. You need it to cover investment in the business – and to cover the odd unexpected problem. Be brave. If your work is good and you're totally professional, you'll still win work. Maybe more work…
Give the customer as much detail as possible. More bravery required. You don't want to leave anything in doubt. This way, if they move the goal posts they pay for the changes.
Know what's profitable and what's not – you don't want to be a busy fool. Analyse what type of job makes you money and stop with the so-called 'loss leaders'.
Use a build program to make sure you have the right people and the right materials and the right equipment on site at the right time.


…AND THE FINAL 10…

Be in control. With multiple projects you need to utilise and distribute workers, equipment and materials intelligently. Merge the projects. See the impact of changes.
Stay on top of cash flow, stage payments, etc. You know the saying, turnover is vanity, profit is sanity, cash is reality…
Keep track of your quotes, chase up customers, don't let them slip away.
Do it right. Do you want to hope for the best or be supported by the law. Like it or not CDM 2015 is a thing. And you have to work with it.
Make sure you're working with ALL the right health and safety documents an

 

HSE

 

Inspector would expect to see on a surprise site visit. Not forgetting the obligation you have to staff and the public to keep them safe.
Use all the pre-agreements to stay on the right side of Trading Standards. Use a 'Notice of the Right to Cancel', 'Start Work Now Form', 'Changing Work Form'.
Issue an enforceable building contract, form and covering letter. You'll get paid on time and if you don't you'll have the law on your side.
Think big and add design to your business offering. You'll save money on architects fees and will have more control over changes. It's also another revenue stream. It could be a real game-changer. And unless you choose highly complex software – you won't need a degree in architecture!
Use the profit you've made over 2020 to invest in marketing whether that's wrapping your van with new graphics, clothing with your logo, a website, Facebook advertising.
Enjoy the free time that all the above will bring you. Imagine… your evenings and weekends back…
And as I say, if you're reeling by all of this – don't worry. I've basically listed everything that HBXL Building Software handles.
EstimatorXpress gives you the choice of detailed, bespoke estimating, or hundreds of pre-configured quote templates which will give you a comprehensive estimate in no time – for lean-tos, garages, extensions, loft conversions, renovations and new builds.
Import the data from your EstimatorXpress estimate into Health & Safety Xpert for a pre-construction information document, construction phase health and safety plan, health and safety file, risk assessments, COSHH assessments, company health and safety policy, method statement, permits to work and loads more documents, specific to the actual project (i.e. not every form the software contains).
Import your EstimatorXpress data into ContractsXpert and it will provide a letter, Small Works Contract, Consumer Contract, Subcontract, Start Work Now Form, Notice of the Right To Cancel, Cancellation Form and Change of Works Form. It also references CDM 2015 and where the responsibility lies.
And if you've multiple projects you can import all your estimates into ProjectXpert for a full overview of where everyone and everything need to be. Unexpected change? One click and you can see the implications across all the jobs.
And to complete the suite, there's PlansXpress which, when combined with EstimatorXpress, makes take-offs and costing a doddle. And that's because your traced or drawn-from-scratch plan produced in PlansXpress gives EstimatorXpress almost all it needs to give you a nigh on instant estimate.
So if you want a successful construction business in 2020 then have an online demonstration with one of the HBXL Building Software team in this our 20th Anniversary year! And if you need more time you can trial the software for 14-days. We're here, ready to chat on 0117 916 7898. Your building skills. Our building software. Together, let's build a great business.
---
---