Introduce Design and Build into your business and you can look forward to a new revenue stream and a new type of customer.
And it's easier to make happen than you think.
The Design & Estimate Kit from HBXL Building Software is straightforward to master, and the reward for your design work is software that works out the estimate for you.
You create your design (or trace an existing plan) in PlansXpress, import it into EstimatorXpress, answer a few questions and watch the software do the calculations and give you an estimate, quote and paperwork to manage the project itself.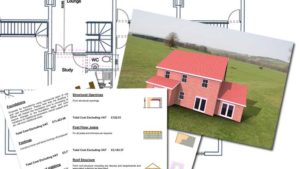 What's not to like?
Chances are, you're busy now but who knows what the future holds? I'm not trying to scaremonger but future-proofing your business can only be a good thing.
SHORT TERM FUTURE-PROOFING…
…would involve creating a financial buffer. And the quickest route to achieving this would be:
Getting your quotes spot on
Accounting for every expense
Keeping on top of material prices
Avoiding errors
Building in a decent profit margin
Getting a professional-looking quote in the hands of the customer fast
Working efficiently once you've won the work.
Just the EstimatorXpress part of our Design & Estimate Kit alone can help you with that – as you can read here.
LONGER TERM FUTURE-PROOFING…
…would be adding another revenue stream, such as Design and Build. Again not wishing to be all doom and gloom, but 2020 could become much more competitive between local building firms.
You want a point of difference – selling features that not everyone can offer. The companies who will survive the next twelve months will be:
Running a lean business
Sorted with their admin process and tooled up with the latest

 

software
Ensuring they have a good presence on the internet
Thinking outside the box and very possibly…
Offering design as well as build.
The businesses talking the talk AND delivering on the promise of course do well. They charge the true cost of a job, and have the detailed quotes to back them up. And they cherry pick the most profitable type of work, attracting the customers who will pay for a job well done.
So why not bring 'Design and Build' in-house? Save money on architect fees and win profitable work from customers who recognise good service. The easy-to-use software will enable you to draw extensions, new builds and even lofts – while the software prices it!
The detail in your drawing automatically creates the estimate – your input is minimal.
No technical drawing experience needed – the process is all click, click, drag and drop
You'll produce architect-quality planning and Building Regs compliant drawings
You'll automatically get elevations and 3D models to wow customers
And you can give your customer a professional quotation
Plus, if the customer moves the goal posts you can move the walls, doors…easily and instantly provide a new price.
Choose outright purchase from £1699+VAT or an annual subscription from £699+VAT.
Call us on 0117 916 7898 to arrange a non-techie online demonstration or book it here. Simply choose a time and date for one of the team to run through the software in a short personal demo, from our office direct to your own computer screen wherever you are.
---
---