Quick takeaways:
Green light for more extensions with our estimating software
Homeowners can now builder larger extensions on their properties without the need for a full planning application
You can choose an extensions template, add your dims, tweak your specification and resources, and have a quote in less than 30 minutes.
How many of the 110,000 extensions that the government has reported were completed from 2014 onwards were built by you? Not enough? Then be ready to respond to new interest from homeowners now that the government have made temporary rules permanent ones under the new Permitted Development right.
And we're ready to help you make this most of this new ruling. EstimatorXpress 2019 estimating software has hundreds of templates for single storey hip, apex, flat roof and lean-to extensions (including wraparounds) – with countless permutations of roofs, wall finishes, flooring and internal fitting out.
SMARTER THAN YOUR AVERAGE ESTIMATING SOFTWARE
Once you've chosen your extension, all the software needs is a handful of dimensions based on any specification preferences and unique labour, plant and materials prices. EstimatorXpress will then cost the entire building in minutes (approx. 30 minutes for an extension) and give you a quote in a single click. You even get an analysis of your projects via useful reports and graphs automatically.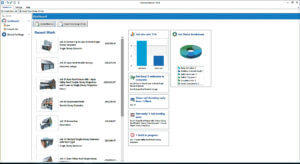 The Government's announcement means homeowners now have the certainty to make plans to add a single-storey rear extension on their property of up to 6 metres for terraced or semi-detached homes, or 8 metres for detached homes.
Housing Minister Kit Malthouse MP said, "These measures will help families extend their properties without battling through time-consuming red tape. By making this permitted development right permanent, it will mean families can grow without being forced to move."
Speed up your response times, improve your accuracy, protect your profit and take a look at EstimatorXpress 2019. Your competition will – if they haven't already…
To see what easy, fast, business-changing estimating looks like, give us just 30 minutes in an online demonstration. Call 0117 916 7898 today or book it here.