Quick takeaways:
HSE inspection initiative – focus on occupational lung disease caused by asbestos, silica, wood and other dusts
New Health & Safety Xpert gives everything you need for your general building works compliance in one package – including documents relating to this latest initiative
Starting on 17 June, the HSE will be carrying out its latest construction inspection initiative. This initiative will continue the focus on health, in particular the measures in place to protect workers from occupational lung disease caused by asbestos, silica, wood and other dusts when carrying out common construction tasks.
Priority is often given to safety but thousands more workers suffer ill-health at work than are harmed by at-work accidents. Asbestos and dust are 'slow killers'. HSE estimates that annually there are around 8,000 work-related cancer deaths a year. The construction industry accounts for around 3,500 of these with asbestos and silica the major causes. Construction businesses and workers need to be aware of how dangerous and hazardous to someone's health such substances can be.
HSE inspectors will be looking to ensure those involved with construction projects know the risks, properly plan their work and use the right controls.
Where poor standards are found, enforcement action will be taken.
HOW TO BE INSPECTION-READY
Are you ready for a surprise visit from the HSE? Putting fines and shutdowns aside, 'just' a Fee for Intervention is an unwelcome setback. The hourly fee is now £127 and the average cost of an invoice is in the region of £675 (often for what you may consider fairly minor "offences" such as a fuse gone in the site cabin hot water boiler…muddy/slippery steps to the cabin…or no bin for waste!).
Health & Safety Xpert 2019 is a clever CDM 2015 compliant software that helps you stay within the law without having to do loads of form-filling or wade through masses of paperwork. Up-to-the-minute, industry-standard documents have been written with leading experts to make sure you keep everyone on site safe and ready for any HSE inspection.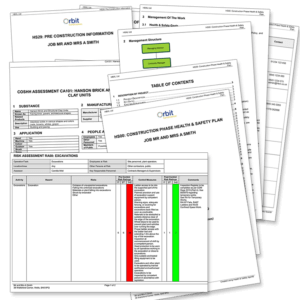 Among the many important documents, it includes Toolbox Talks, a Permit to Work Asbestos, relevant Risk Assessments, COSHH Assessments including two useful documents to help you meet your obligations;
• EH 40. This is a HSE publication containing a list of workplace exposure limits for use with the COSHH Regulations 2002
• Risk and Safety Phrases. This is a list which contains details of special risks attributed to dangerous substances and preparations, together with safety advice.
Health & Safety Xpert is easy to use. It identifies the relevant paperwork for each job. It cuts down the time it would take by hand and at a fraction of the cost of a health and safety consultant. And MASSIVELY cheaper than an HSE fine! To find out more about these important software solution, give a member of the HBXL team a call on 0117 9167898, leave us an email or follow the links to get started with a trial or a live online demonstration.