Are you the fastest out of the blocks with your building estimates?
They say 'snooze you lose'. But if you're really busy how can you possibly act quickly to all those requests for quotes? How can you get there first, a good stride ahead of the competition? Well we can help you win at estimating.
We can help you aim for the big prize money with top quality quotes. And that's because our brand new game-changing Rapid Take-off & Estimate Kit enables you to be more selective and go after the profitable jobs, not just the jobs that keep everyone in work.
Is HBXL's software right for you? Are you…
…a take-off from a plan kind of company? Great. You can do that with our kit.
…a spreadsheet user? Our estimating function is based on familiar Microsoft Excel
…a cost per square metre business? Our software will give you an accurate cost per sq m based on today's prices and building regs (no need to guesstimate!).
In fact, however you produce your quotes currently, the new £1499+VAT Rapid Take-off & Estimate Kit is ideal for you. This revolutionary software is:
seriously easy to understand,
ultra-fast to use,
looks professional, is professional,
and will lock-in your profit.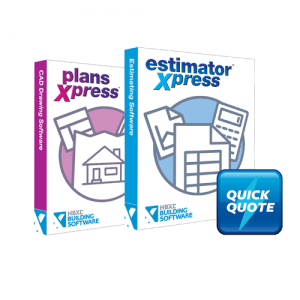 The Rapid Take-off & Estimate Kit is a quick win in itself for any forward-thinking building firm. Combining EstimatorXpress and PlansXpress with the new Quick Quote plug-in, we believe this is the UK's fastest, most accurate estimating software available to the smaller building firm today. And we're already getting some fantastic feedback from new users:
"It's just  …brilliant! So quick and easy to use, especially for simple extensions"
Greg Strugacz, Penco Builders
"Quick Quote puts everything at your fingertips."
Dave Stanley, Union Renovations
Not only will you be able to quote more often thanks to the amazing simplicity of the process, but your professional-looking, detailed quotes will attract the better paying jobs. Plus, 100% accuracy will keep your profit intact.
There are two ways to get the same, high quality results:
Option 1)
You can either get an instant quote when you take off using the software's clever tracing tools within PlansXpress, the CAD package, and then import the take-off into EstimatorXpress.
See a quick video here.
Option 2)
Or you can use the Quick Quote plug-in within EstimatorXpress within the estimating package. Within four minutes you'll have estimated an extension. And in two minutes a renovation. (No plan needed).
See a quick video here.
And getting competition-fit won't take long at all. You could experience the difference in a matter of days. So why not start with a Test Drive. We'll drop the software onto your computer, take you for a spin before giving you the keys for 14 days!
And as a customer, you can look forward to outstanding support from the Customer Service team.
We can also assist with cash flow by providing the option of stage-payments (with no added interest).  To find out more, call the HBXL team on 0117 916 7898 and we'll help you reach the top podium.