The quote is just the beginning.
If you thought EstimatorXpress was just about creating an accurate, professional-looking quote – at speed – you'd be wrong.
We put as much work into the project management side of the software as we do the estimating side – for one reason.
HBXL is in the business of helping you win the work and then profit from it.
We're here for the whole journey from producing the quote to managing the job to its completion. And yes, if you add our ContractsXpert software (£199+VAT p.a) into the mix – our work is only complete once you're paid.
MAKE MONEY NOT DEBTS
Whether you struggle to break even sometimes or are keen to increase your profitability we can help. It's all about covering your outgoings AND having money on top to put back into the business. Our network partners, The Better Business Group (mentors to building firms) would always encourage builders to never try to win a job 'at any cost'. No job is better than a money-sapping one.
One caveat – you stand to make a decent profit if you win a decent project, but that's a whole different article. You can read more about this and download our Profit Guide here.
In the meantime back to EstimatorXpress which has the tools to support not just the correctly costed win, but the success of the project too. No wonder EstimatorXpress is the leading estimating software for UK building firms.
Accurate estimating calculators that make sure your price is right from day one
The software flags the hidden extras to make sure you price for wastage, wear and tear and inflation
It prompts you to add your profit margin
It automatically produces a material order report that you can give to your merchants for preferable rates
There's a build programme – automatically populated with your project details so you can stay on top of who, what, where, when…
…You can set working days and working times and even zoom in to see days for smaller works. And it feeds into all your schedules, cashflow and profit forecast as you'd expect.
Then there's the cutting list, labour schedule, cash flow analysis, stage payment schedule and more…
And one of the most popular features in EstimatorXpress – the clever 'mission control' dashboard showing what quotes need finishing or chasing up, what jobs are starting soon, your win rate… (the two images here are snapshots of the dashboard).
IT'S A WIN-WIN
To paraphrase a famous quote… 'It's not all about the winning, it's the taking part too'. Don't just go after work to win it, go after work that you can win and make a profit from.
And just as we don't believe in giving you some basic quote software,  we don't take your money and run either. Your purchase comes with an initial 12-month Support & Updates Plan (which you can opt to continue taking out), and the subscription option automatically includes it. We're here to help you get to grips with the software and hone your skills.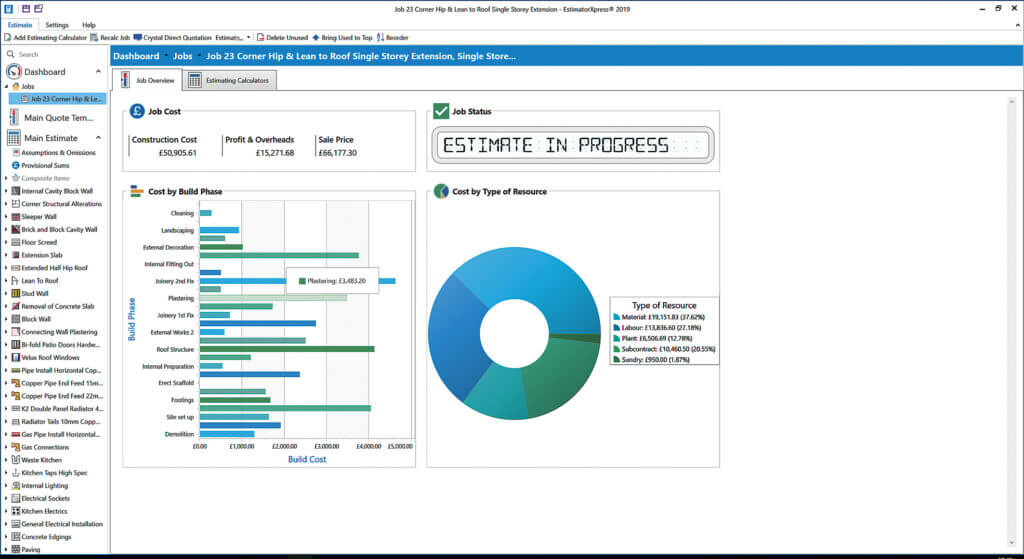 WHAT NEXT?
If you want the profit you deserve, then let one of the team demonstrate EstimatorXpress online (it will only take an hour of your time) and discover just how straightforward it is to use.
Give them a call on 0117 916 7898 or set up the demonstration online here.
WANT TO HEAR MORE ABOUT PROFIT? WATCH OUR VIDEO CHAT ON THE SUBJECT.
Watch the recent Power Hour between Jo from HBXL and building firm mentor, Simon of the Better Business Group
https://hbxl.co.uk/video/hbxl-power-hours-plan-for-success-build-proper-profit-into-your-business/
---
---