We're an award-winner! More good news for the team – and our customers! We've been awarded the ACQ5 UK Niche Technology Support Provider of the Year (Construction) 2019 – for the third time – having received the highest number of nominations in our category!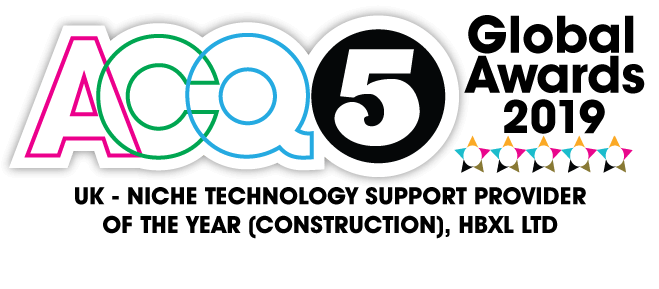 Our Customer Care and Tech Teams are certainly on a roll. We receive excellent feedback each month after calls are made into the two teams. And we've been rewarded with a 5-star 'Excellent' status on Trustpilot following some impressive testimonials.
AWARD-WINNER FOR SUPPORT
As for our ACQ5 award, we're very grateful to the judges of this international scheme. ACQ5 is the leading corporate news magazine that has been serving the sector since 2003, with a global audience of over 215,000+ subscribers.
And HBXL Building Software has certainly caught their eye.
GREATEST IMPACT ON THE INDUSTRY
The ACQ5 Global Awards celebrate achievement, innovation and brilliance in their annual program, searching for the most outstanding companies and professionals across the globe. Chosen by members of the industry itself, award winners are selected from more than 75,000 nominations from companies which have had the greatest impact in their industry and represent the benchmark of achievement, professionalism and best practices. So to be an award-winner is excellent!
The full list of ACQ5 Global Awards 2019 winners will be published in a special stand-alone supplement released by ACQ. All of the rankings will be published online as well at http://acq5.com
5-STAR SUPPORT FOR OUR CUSTOMERS
So aside from the stars and sparkle, what does it all mean to our current and future software users? Well you can be sure of outstanding support from the moment you try the software. This continues when you subscribe to it or buy it outright – and throughout your use of the software. We don't take the money and run. We're all about helping you make the most of these valuable software tools from EstimatorXpress our estimating software, to ContractsXpert our contract-writing software.
To find out about the 5-star treatment you get once you're a customer read this: https://hbxl.co.uk/once-youre-a-customer/
Want to ask questions about our software and support? Call the sales team on 0117 916 7898.
---
---