Our 2019 suite of construction software for general builders is out now. EstimatorXpress 2019 is a new piece of kit altogether and we list the best bits below. Our other software solutions have undergone some valuable updates with clever new features added to the mix. The updates to the software below, give you an idea of the ongoing improvements we make that subscribers automatically benefit from throughout the year, as do users with a lifetime licence and a Support & Updates package.
The brand new EstimatorXpress 2019 is like nothing you've seen before (even if you've checked out our software before!). Here are just some of the amazing new features:
We've left the Microsoft Excel platform for a more stable environment
Faster and easier thanks to advanced technology and a slick interface
Hundreds of pre-loaded job templates (previously the Quick Quote plug-in) now part of the software
Job cost totals LIVE as you enter your dims, and tweak your specifications
Brand new Price Tracker+ with massive (current) building materials catalogue
A clever 'mission control' dashboard showing what quotes need finishing or chasing up, what jobs are starting soon, your win rate…
Automatically produced reports to help you run your business.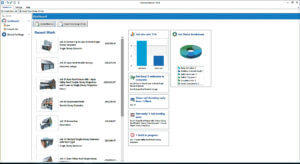 This unique product requires minimal input to give you a speedy yet detailed and accurate quote.​​
BRAND NEW BUILDING REGULATIONS TOOL IN ESTIMATORXPRESS 2019 – JUST RELEASED
This is no add-on you have to pay for – it's included in the software. You can generate automated building regulation and specification notes directly from your estimate in EstimatorXpress 2019. It quickly provides a compact set of notes devised to comply with the multitude of documents referred to in Building Regulations. Print out or export to common formats like PDF and Word document. How useful is that!?
It has new functionality that allows you to rotate PDF plans as part of the Scan & Trace import process, handy if scanned plans are not quite straight.
Five new Toolbox Talks, three updates, plus the HS28 Contractor Questionnaire. We've also added a new sample Method Statement for the demolition of brick-built structures with asbestos cement sheet roof.
You can now import 'Assumptions & Omissions' and 'Provisional Sums'. The program runs as a 64-bit application, and the 'Working hours' section of the contract has a button to save the current working hours as the default on all new contracts. Plus you can choose between a light, blue or dark screen!
It includes some great new features. Improved appearance and usability on high DPI devices such as 4K monitors. New tools to configure header, footers & company logos on print outs. You can easily change a bar's colour.  And no need to install it on the same computer as EstimatorXpress 2019 to perform imports.
AND THE BEST BIT?
The more products you choose the greater the benefits. All the programs cleverly talk to each other using one set of data, so your business could enjoy a totally integrated construction solution – saving you time, making you money, and generally helping you run a tighter ship.
Call 0117 916 7898 for a chat, trial or online demonstration. Or visit our online shop to go for it 
---
---