You may say you're not in the right frame of mind for thinking about buying estimating software. But if we overlook the personal misgivings for a moment and concentrate on the business argument and the hard facts, you might have to think differently – your staff (and family) will thank you for it!
The bottom line
If you use HBXL EstimatorXpress estimating software, you will have the opportunity to:
Estimate faster and more easily
Impress with professional business-winning quotes
Get your costs spot on every time
Make the money you deserve (no more absorbing costs)
Boost your margins with ready-made reports
Go after bigger, better jobs that pay well.
Surely that's worth pursuing? Hopefully the information below will put you in a positive frame of mind and 'a not yet', 'definitely next year' can become 'let's do this NOW'!
Can your business afford to buy the software?
We're pleased to tell you that we've just made our software packages even more affordable. EstimatorXpress Standard Edition for example is now down to £899+VAT. In fact, all our software products have been re-priced downwards.
Cash flow an issue?
Last of the awkward questions… You can opt to pay in interest-free instalments. Try out some numbers on the repayment calculator here. (We'll never know you were there).
You're busy for the next 12 months thanks all the same? But what kind of busy is that? The profitable kind? Or the break even kind? Or the 'we'll make a loss but at least we've kept everyone working without any gaps in employment', kind? You can put the brakes on that style of business with our software, and fast, in a matter of days in fact.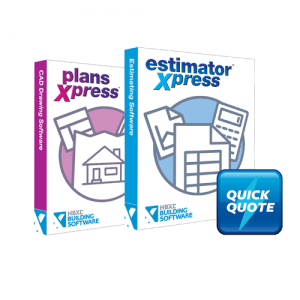 You're more a take-off from a plan kind of company? No problem. You'd be perfect for the new £1499+VAT Rapid Take-off & Estimate Kit which gives you instant estimates from take-offs. And if you want to go straight into a typical extension estimate you can use the Quick Quote plug-in within the kit, and produce a quote in a matter of minutes. It's even faster than a take-off.
All the same – your business is different? We've thousands of customers, from small building firms and tradespeople to developers, so there aren't many scenarios we haven't encountered.
Meet Lee Goodwin, of Oakleafe Property Services, with 60 staff on the books. "Before HBXL I had a system that was quite frankly archaic. I knew I needed to do something that meant I wasn't working late into the nights and on weekends. Looking back it seems ludicrous the way we used to do our estimating. Using this software has not only made us work smart but has made our life a lot easier and I'd advise others to do the same." He explains more here.
Meet Dave Stanley, of Union Renovations, jobbing builders but very project based with normally lots of elements to the work. The new Quick Quote plug-in which works with EstimatorXpress has changed his world. As Dave says, "Quick Quote puts everything at your fingertips." See here.
Meet Charles OKell, of UK Pro Build. Charles first challenged us to produce an estimate ourselves for him. He now has all of our software products. "It's really changed how we think about doing business, whether we wanted to be 'busy idiots'; are we making the most effective use of our skills and our team? The software has given us the insight, knowledge and confidence to know that our prices are right." Charles explains more here.
Meet Kuno Jackson, of Kuno Jackson Builders who produce extensions, loft conversions and new builds. "I have used EstimatorXpress since it first hit the market and have sworn by it ever since to price up everything from small household renovations to £5m building projects." Read on.
As we did with Lee, Dave, Charles and Kuno, we listen, discuss and advise on the best set-up for your business. In fact we've been listening a lot to builders across the UK recently and that's how the Rapid Take-off & Estimate Kit came about, as we explain here. You see, we get that it's hugely competitive out there, and it's the profitable work that's hard to clinch. Based on the reaction we've had to the kit already, we've got it spot on.
None the less – how will you know our software is right for you? After the chats we have, it's unlikely you'll take on something that's not suitable. But of course you can have a test drive. We'll drop the software onto your computer, take you for a spin, before giving you the keys for 14 days! And we've got an amazing award-winning support team on hand, however small the query.
At the end of the day what's the hurry? He or she who hesitates to buy our estimating software loses money on a daily basis … and we can tell you by how much. Go on, fill in our 'Cost of hesitancy' calculator – hopefully it won't be too scary!
So surely there are NO more obstacles to you picking up the phone? We're ready and waiting on 0117 916 7898. And if there's still something we haven't covered here, all the more reason to pick up the phone and challenge us with it! And there's the 'Chat' box that will have popped up – you can message us on this. We look forward to hearing from you – but make it NOW!
---
---