HBXL have had a great 2016 filled with regular construction software updates and a whole heap of awards for our estimating software – EstimatorXpress, our company as a whole and our fantastic support team. Read on to be reminded of all the improvements we've made to our range of market leading construction software products for builders and developers so you can check if you are bang up to date with the latest features and regulations.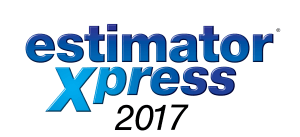 Winner of three awards in 2016, EstimatorXpress has just undergone a major transformation to EstimatorXpress 2017 as well as two previous, updates to the 2015 version. You certainly get your money's worth with a year's Support & Updates!
EstimatorXpress 2017 comes with new estimating ribbon navigation and a new 'quick start' estimating wizard , which remembers your preferences on how you work. This dramatically speeds up the time it takes to get an estimate and also furthers the benefits of the Spring and Summer updates including a whole host of new features such as new drainage and sewage workbooks, improved integration with Health & Safety Xpert, new mini specs for guttering and "no decoration", updated PlansXpress integration of the Notes Wizard in partnership with Assure Building Control, new build phases for internal renovation and improvements to existing Workbooks.
For existing users of EstimatorXpress 2015, all these updates plus access to our very helpful support team 9-5, Monday to Friday is just £179+VAT. Absolute bargain, I'm sure you'll agree! Make sure your Support & Updates are in place here. Head's up…there are LOADS of new EstimatorXpress features and Workbooks planned for launch in 2017. Watch this space.
PlansXpress – Straightforward CAD software for builders and developers.
Our fully integrated construction software range starts with PlansXpress, the easy building plans software which has again had some major improvements this year with the release of a PlansXpress spring update.
This huge development took four people around 300 hours or eight man weeks to produce. Included in this major development was an update building regs as part of our partnership with Assure Building Control and improved connectivity with the EstimatorXpress Notes Wizard to intelligently analyse the drawing and identify the relevant Building Regulation clauses required to pass building regulation plans inspection, often reducing the process to a single mouse click! Find out more here
Our construction health and safety software has had two significant developments this year seeing the release of Health & Safety Xpert 2016 and our autumn update just recently. These both included a health and safety regulations review to ensure the software is up to date with all the latest changes in legislation. As part of this we developed 91 additional COSHH Assessments, 15 new or updated Risk Assessments and a new Simple Construction Phase Plan to address the requirement for a CPP for jobs of any size. This helps gets boots on the ground quicker, helps your company avoid unwanted attention from the HSE and work towards a safer construction industry. To find out more about the latest additions to Health & Safety Xpertread the full article.
ContractsXpert – Protect your business and assure your client.
Back in January we released ContractsXpert 2016 which has been completely revamped and was written (and updated) in conjunction with a leading construction lawyer to ensure all our contracts are watertight yet straightforward so that both customer and builder are on the same page. Payment is made simple and it is easy to make alterations to match changes in the work. All documentation required for Door Step Selling compliance is produced within minutes requiring minimal effort. For more information please read the full article.
Ongoing commitment to research and development ensures best construction software.
We think you'll agree that we've had a busy year and in our eyes it's all made worth it when you hear back from happy, successful users and receive such great awards. At HBXL we attribute this success to our ongoing commitment to research and development of all our construction software. We reinvest 25% of our turnover back into product development to make sure our users get the most out of their Support & Updates. In order to benefit from all the investment and work we do, AND to be able to use our award winning Support Team, make sure you keep your Support & Updates in place here.
---
---