What builder or estimator wouldn't want to quote building projects faster and better? Guesstimated prices and a token profit margin (or worse still, no profit margin at all) are asking for trouble. No business can survive without a buffer or provision for unexpected outlays, and ideally, funds for growth.
NOW YOU CAN QUOTE BUILDING PROJECTS FASTER
Profit isn't a dirty word. It's essential. Perhaps you think you're already 'profitable'.
How do you judge your profit status currently? Based on how busy or stressed you are, for instance?? The number of jobs that are going through each month? It's easy to be 'busy' and to think you are making money, especially if today, there is cash in the bank. And there are plenty of builders who are happier being constantly busy even if they're not making a profit on every job. But that's not the way to go…
HBXL's all-new EstimatorXpress changes everything. It's the gold standard of estimating software.  If you mean business, then this clever software tool is for you. It will help you analyse your profitability, price better and quote building projects faster! More often than not, builders who price the job's worth and apply a realistic profit margin still win the work – we explain why here. See below what EstimatorXpress can do for you.
REDUCE YOUR ESTIMATING TIME…
…to less than half an hour for an extension. The software has already started your estimate. The 100s of renovation, extension and new build templates are pre-loaded with the relevant project costs ready for your dimensions and personal preferences.
THE SOFTWARE DOES ALL THE SPADEWORK…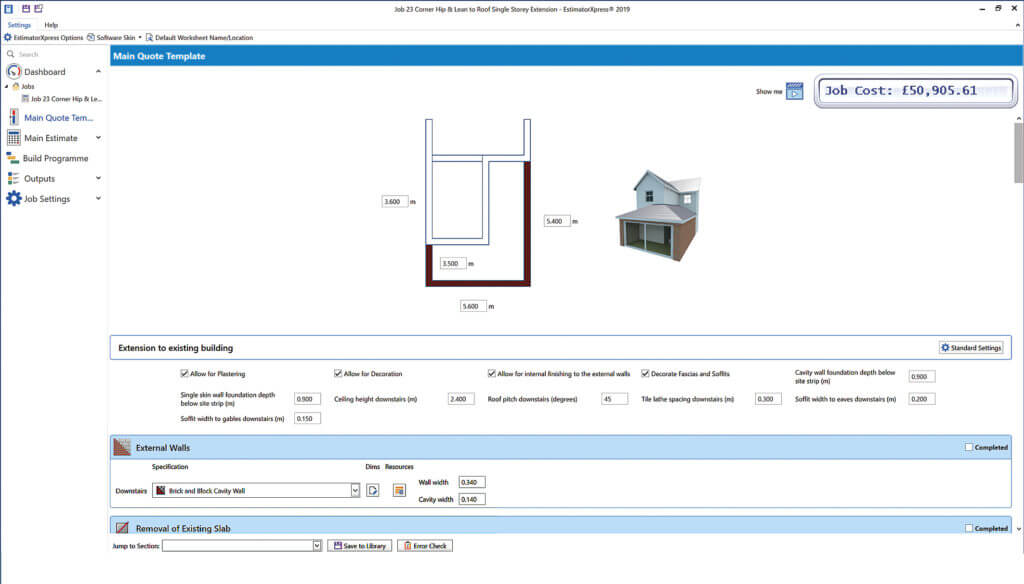 As you enter your dims, and tweak your specification and resources on screen, estimating calculators are busily pricing up materials, labour, plant, wear and tear, and wastage, showing you the live total cost as you go.
JOB DETAILS AND PROFIT AT A GLANCE…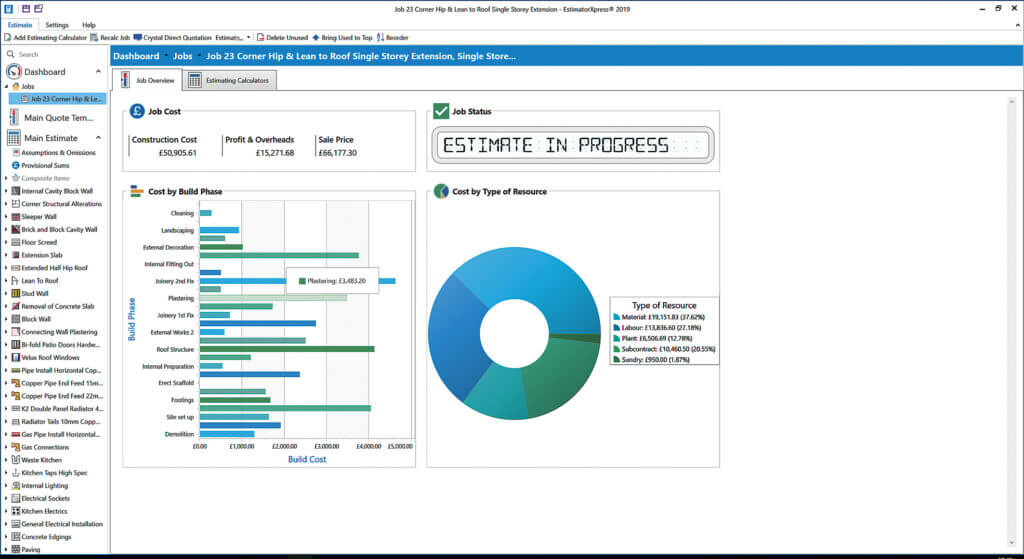 …for the most profitable outcome. Check on status, overall cost, profit and price to the client. The editable build programme is automatically produced, as are all the reports like the materials list and labour schedules.
TURNOVER IS VANITY, PROFIT IS SANITY…
It's not enough to get paid for what you do. In other words, profit ensures the future financial health of your business. And that applies whether you're involved in renovation, extensions, conversions or new builds.
If you charge what you think the customer will pay, if you use a rule-of-thumb, if you guess the cost of materials, you might not break even, let alone make a profit. And a profit of say 3% or less – may well be too small a margin to fund unexpected material price rises, errors, problems on site, bad weather…
NEXT STEPS
1) Phone one of the sales team on 0117 916 7898
2) Describe your business, how you currently quote for work and what you would ideally like to change/improve
3) We'll recommend the HBXL software package that would best suit your needs and aspirations
4) And you can book a short online demonstration to see it live in action over your computer
So, don't miss this opportunity to price right and quote faster. Start by looking round the rest of the website here, you could have an online demonstration with one of the team. And if you need more time you can even trial the software for 14-days. We're here, ready to chat on 0117 916 7898.
MORE READING…
Why not download our handy profit guide here.
---
---