This is the third in a series of three articles on knowing your costs, for improved financial health and a better chance of winning good profitable work. You'll find the other two articles here:
"Growing your business by working 20% more hours is not growth. That is called working longer and harder."
So says David Hieatt, a successful entrepreneur, publisher and jeans manufacturer, based in Wales. He adds, "you should identify where you make the biggest impact on your business and spend 80% of your time there."
And then you should charge what the job is worth, not what you need to stay afloat. You need additional funds to withstand problems and better still, plough money back into the business.
As Simon Lazurus, our partner from The Better Business Group says, "You're charging right when you can pay yourself a regular income, not just your employees. When you're putting money aside for a pension. When you have money in the bank.
"If you charge what you think the customer will pay, if you use a rule-of-thumb, if you guess the cost of materials, you might not break even, let alone make a profit."
You can read our complete Profit Guide, compiled with the help of Simon from BBG here.
And you can also have a free 1-hour consultation with Simon. BBG has been helping builders since 1995. They know what makes good companies busy, successful and profitable. They can help firms avoid the common pitfalls of low profits and under-pricing to keep the diary full. You can arrange the meeting here.
As for identifying the most profitable jobs, HBXL EstimatorXpress users have the software's 'mission control' style dashboard at their disposal. It gives you a visual business overview of your projects. The intelligent dashboard analyses your estimates as a matter of course to give you 24 valuable insights into your business as graphs, bar or pie charts. Your cash flow, what's profitable, what's not…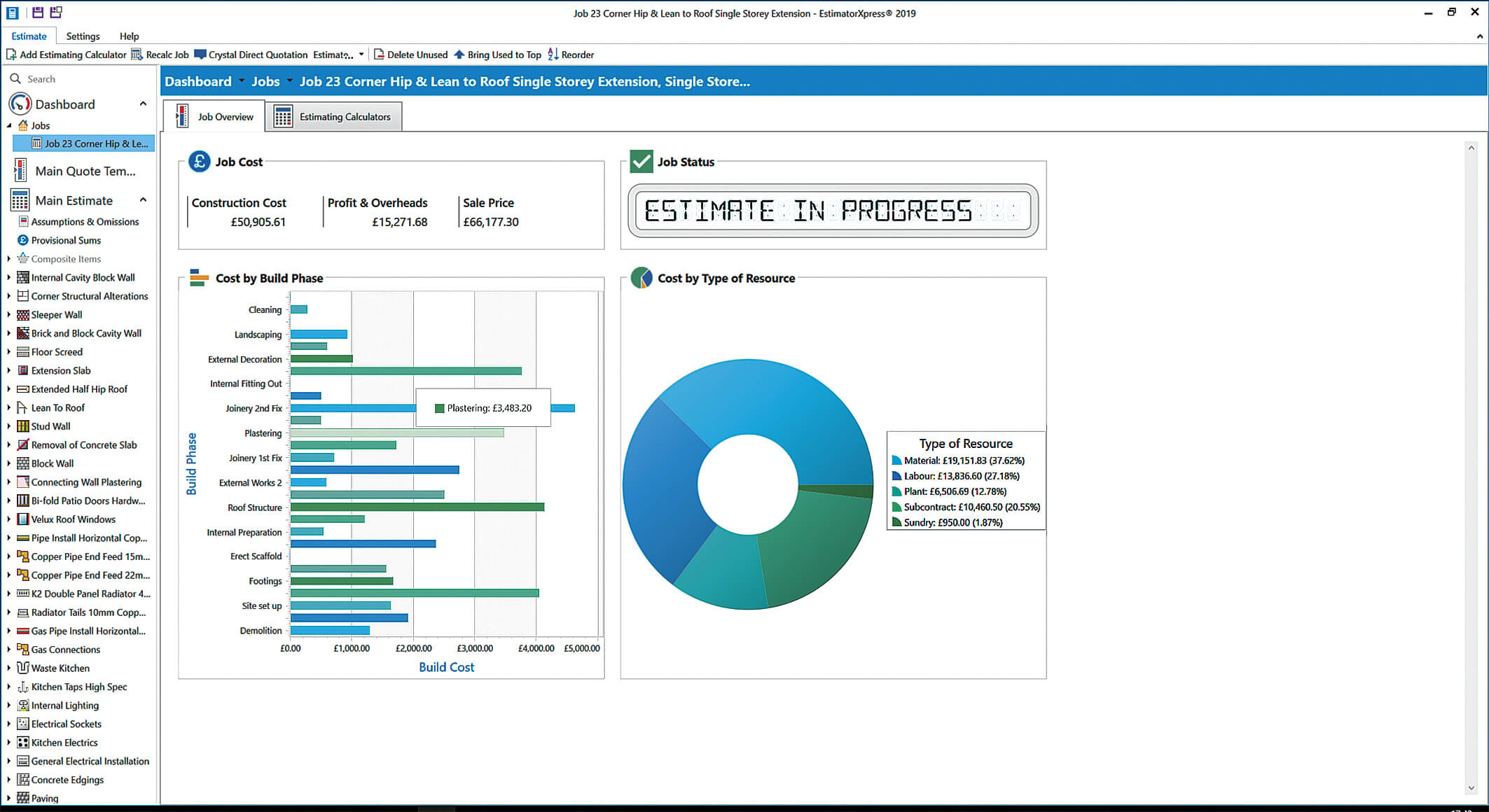 So have you been a busy fool or a business Rottweiler holding on to every penny possible? Now is the time to establish a new set of rules, and stick to them.
TAKE A LOOK AT THE OTHER GOALS IN THE HBXL RE-START ACTION PLAN
There are lots more ideas on getting business-ready for when we 'come out of the other side' here >>
NEXT STEP
EstimatorXpress can help your re-start be a positive one, so why not have an online demonstration with one of the HBXL Building Software team. We've made lots of hour-long slots available. And if you have more time available at your end, you could trial the software for 14-days. We're here, ready to chat on 0117 916 7898.
---
---