Does your building firm stand out from your competitors? When costs are close there's often little to choose between competing building firms – so what's a homeowner to do? What is it that gets companies on to the short list? Visuals. Lovely images of what could be.
Basically, an impressive visualisation of a dream extension could make all the difference between who wins and loses.
And PlansXpress is your quickest and easiest route to providing the wow-factor. But it's all about planning for success. You need to plan it – to boss it – which means getting to grips with the software now to win profitable work in the future. Read on to see just how easy it can be…
GIVE YOUR PROSPECTS STUNNING IMAGES
Don't just give them a price, give them a drawing and 3D model that will help them visualise their project. You know how popular CAD drawings of kitchen refurbishments have become. This is the same but on a much bigger scale.
PROMOTE YOUR STAND-OUT IMAGES ON FACEBOOK AND SOCIAL MEDIA
Imagine showing prospective customers images like these on your website or Facebook page? Your building firm will stand out from competitors when you share 3D models, and better still, life-like renders. And there's lots more information on marketing your business in our article here.

TRACE OVER EXISTING PLANS
As you trace in 2D, PlansXpress Plus automatically creates a fully textured 3D model on the fly. It's not only great for showing off the project to customers but it's ideal for evaluating space and analysing your plans.
And if you have PlansXpress Premium with one click using the software's 3D PhotoVisualiser, you can generate a photo-realistic render of the project and place onto real-life background photographs to transform your building plans into real life 3D.
TAKE-OFF FROM THE TRACED FILE
And to make even better use of your PlansXpress software, export your traced plan to our EstimatorXpress estimating software and it will price up the plan in no time. EstimatorXpress will take the data-rich plan and read all the dimensions and items on your plan and take off an instant estimate and quote. Just like that! And if you intend to only trace and take-off rather than draw from scratch, our Take-off & Estimate Kit is the one for you.
DRAWING YOUR OWN PLANS IS EASIER THAN YOU THINK
Yet why stop at tracing existing plans? No CAD software experience needed to draw with PlansXpress. It's fast, straightforward to use and completely tailored for residential building projects. PlansXpress comes with a fantastic selection of construction drawing tools and architectural symbols that you simply click, drag and drop onto your drawing. By bringing the design in-house you can save a lot of money on architect and technician fees, especially if there are constant tweaks. Rename your business 'Design & Build'!
You can draft plans for extensions, loft conversions and renovation work or use it simply to create room layouts or place services and plumbing and electrics. Not forgetting external works.
And if you want an estimate direct from your drawn plan (and why wouldn't you??) then you'll be wanting the HBXL Design & Estimate Kit.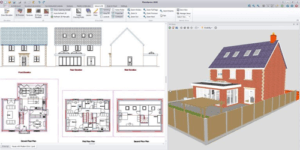 SHOW YOUR CUSTOMER LOTS OF GREAT DETAIL
The software's in-built building knowledge automatically draws the details and hatching as you'd expect from a detailed plan.
EASILY ACCOMMODATE ANY CHANGES
To be able to adapt your plan quickly and easily when the goal posts move is a real bonus for the customer and for you. We could go on, there are so many benefits…
NEXT STEP
So if you want a long term future building profitable extensions, lofts and new builds, then have an online demonstration with one of the HBXL Building Software team. We've made lots of hour-long slots available. And you can trial the software for 14-days. We're here, ready to chat on 0117 916 7898. Let's help you boss it.
---
---