Have you considered what a difference estimating software could do for your business – not just time-wise but financially too?
I'll explain with a question. Did your final profit for 2019 reflect the amount you believe you deserved based on the quality of your work and service?
No? You're not alone. 51% of the 537 small to medium sized businesses surveyed in 2018 by Factworks, said that maintaining profitability was a real challenge. And I doubt it has got any easier since then.
I'm sure what you're offering is great. Your customers like the standards you work to. You get on with the work. You do you want your customers ask for.
But the shortfall in what you think you should be pocketing will still be there in 2021 if you change nothing.
GREAT THINGS NEVER CAME FROM DOING NOTHING
And that's where we come in. We're here to help you make that shift change – and give your construction business the chance of maximum profit.
All you need is EstimatorXpress, the estimating software used by 1000s of firms across the UK. And we make the process as easy as possible:
Get on the phone to us – call the team on 0117 916 7898
Book in a short (less than an hour)

 

online demonstration
Start a trial

 

if you want to try it out for 14 days
Begin a

 

12-month subscription

 

for as little as £399+VAT (or buy outright from £799+VAT)
We allow for all costs in the estimate you produce with EstimatorXpress, from your profit margin to wear and tear, wastage to inflation. Nothing is forgotten.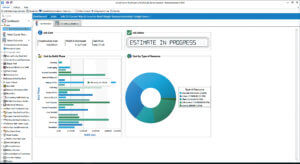 And once you're on board you can look forward to outstanding customer service – training support, a quick response to questions, a marketing kit, money-off vouchers and much more.
Don't take our word for it, check out the feedback from our customers. We look forward to hearing from you soon. Don't forget the number's 0117 916 7898. Get it done. Get it won.
MORE READING
It's not too late to take up our 20-point plan for 2020…
https://hbxl.co.uk/kickstart-your-2020/
All the great things coming your way in our 20th Anniversary year
https://hbxl.co.uk/hbxl-building-software-20th-anniversary/
Take a look at our handy Profit Guide
https://hbxl.co.uk/builder-profit-guide/
---
---