EstimatorXpress can now do even more work for you
EstimatorXpress is the multi award-winning, fast, accurate estimating software for domestic construction projects such as new builds, extensions and renovations. It has become the industry standard and thousands of building firms around the UK use the software day in day out.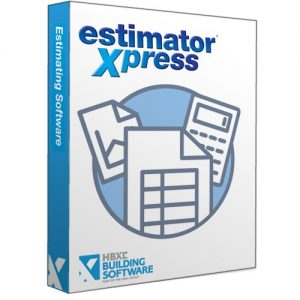 One of the reasons for its ongoing popularity is the regular addition of new features, whether in response to customer requests, or the result of the constant thinking that the sales, support and development teams give to the software in the name of busy, hard-working builders.
In the engine room of the software there's a database packed with tens of thousands of live material prices from a number of our partner builder merchants. It's called Price Tracker™. These costs are drawn on by the thousands of built-in estimating calculators that create the 100% accurate estimates.
We call these calculators 'workbooks' and there's one for just about every aspect of domestic construction. In other words there are workbooks for every imaginable roof type, type of floor and so on.
New workbooks available now
Here's the newest collection of workbooks which has just been made available to all users of EstimatorXpress (users of Quick Quote and EstimatorXpress Ultimate received it in an earlier release):
Plant for Internal Decoration
Plant for Large Decoration Project
Corner Structural Alterations
Extended Half Hip Roof
Sundry Plant
Extended Half Hip Truss Roof
Travel Costs
Full Hip Roof
Full Hip Truss Roof
Planning and Design Costs
Soil Pipe Boxing In
Universal Part L Beam and Block Floor
Universal Suspended Floor
Universal Suspended Timber Ground Floor
Valley Half Hip Roof
Valley Half Hip Truss Roof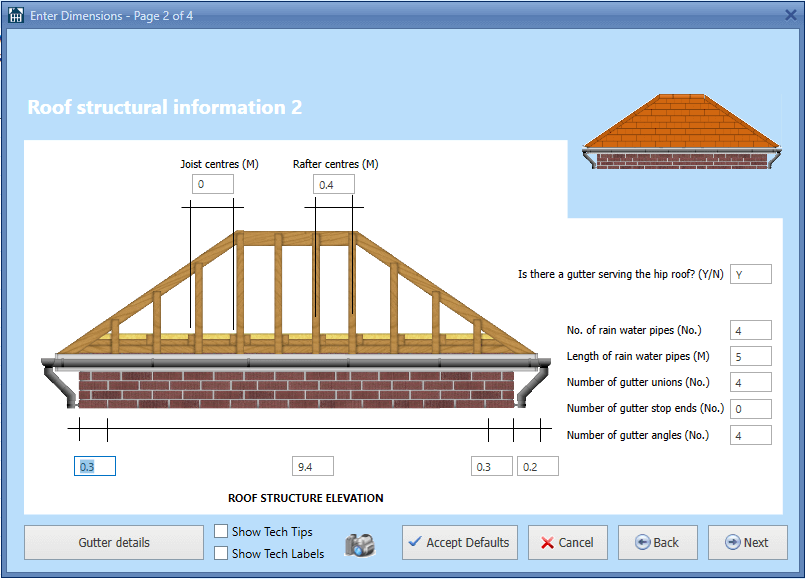 And there's more…
In the next few weeks users can look forward to yet more new workbooks, this time for renovations, plus a new 'mini spec' that enables you to choose between JCB, mini digger or manual excavation methods.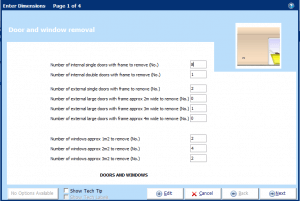 Internal Stripping Out workbook
This has been completely redesigned as a Dims Wizard with lots more options for renovation. Customer Lee G gave us a raft of great suggestions which prompted this redesign.
 New Domestic Carpeting workbook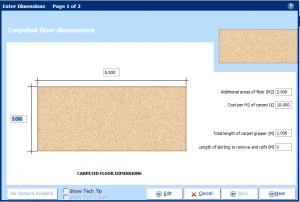 This new workbook for domestic is useful for both buy to let refurb/new builds where carpeting is specified and is available in all building editions of EstimatorXpress.
New Plastered Ceiling Renovation workbook 
New Gutter & Fascia Renovation workbooks
As requested by Andrew B. One for a sloping roof and one for a flat roof. This new workbook aids with the pricing of the above as well as bargeboards and soffits. It utilises the mini specs for fascias and guttering systems e.g. PVCu, cast iron, zinc etc. and PVCu or timber fascias/ boardboards.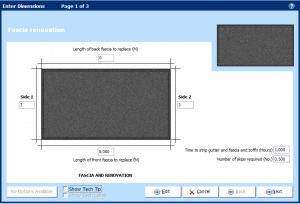 Excavation & Slab Mini Spec
Options for JCB, Mini Digger and manual dig (you choose depending on the project scale and access to site). If you don't choose an option, like all the other mini specs, the software will default to the project type as per the main specification e.g. a new build default is a JCB. Sorted!
Workbooks improved and updated
The following workbooks have been updated to make use of the excavation mini spec to either swap between JCB, mini digger and hand dig or specify quantities required of the relevant plant:
Block and Concrete Retaining Walls
Brick Block and Concrete Retaining Walls
Hollow Block and Concrete Retaining Walls
Site strip
Demolition of walls
Removal of Concrete slab
Block Paving
Paving
Workbooks now with the new mini spec
The workbooks below will also receive the mini spec but have not been modified:
Brick and Block Cavity Wall
External Cavity Block Wall
Stone Cavity Wall
Stone Faced Cavity Block Wall
Multileaf Brick Wall
Brick and ICF Wall
Stone and ICF Wall
Rendered ICF Wall
Internal ICF Wall
Brick and SIPS Cavity Wall
Stone and SIPS Cavity Wall
Rendered SIPS Wall
Internal SIPS Wall
Block Wall (Internal)
All Slab workbooks
If you have the software already, then make sure your Support & Updates is valid, in order to get your software updated to the latest version of EstimatorXpress. And if you've yet to buy the software, can we point you in the direction of a free test drive, or may be straight to the shop! Or give us a call on 0117 916 7898. And let's get to work for you.
---
---