Now is the time to become skilful at getting out a quote fast. In months to come it will pay-off as you get your name in front of the customer before the competition does. And 'quoting fast' is one of the goals in the HBXL Re-start Action Plan.
You know 'fastest finger first' the initial round in 'Who wants to be a millionaire?' Fun fact – Shannon McGehee from the USA holds the world record for answering a Fastest Finger Question in the quickest time of just 0.87 seconds in 2000.
We're not suggesting you need to have a quotation in the hands of a homeowner in sub 10-minutes… but you should put yourself in a position to quote fast without compromising on accuracy and detail.
Who knows how great the competition will be when the lockdown lifts but odds are, the most business-focused building firms will fair better. And the ones out to impress customers will of course do well.
And that's where EstimatorXpress 2020 comes in. Get to know the easy-to-use software now, with all the help our Support Team provide. Thousands of building firms around the UK have benefitted from this award-winning software.  The process is straightforward. The accuracy brings profit and the quotations look professional. And with everything to play for in the future, we know our users will appreciate having EstimatorXpress in their toolkit even more. Discover below what makes it so amazing…
REDUCE YOUR ESTIMATING TIME…
…to less than half an hour for an extension. The software has already started your estimate. The 100s of renovation, extension and new build templates are pre-loaded with the relevant project costs ready for your dimensions and personal preferences. That's it. In return for a few details you get a comprehensive estimate.
THE SOFTWARE DOES ALL THE SPADEWORK…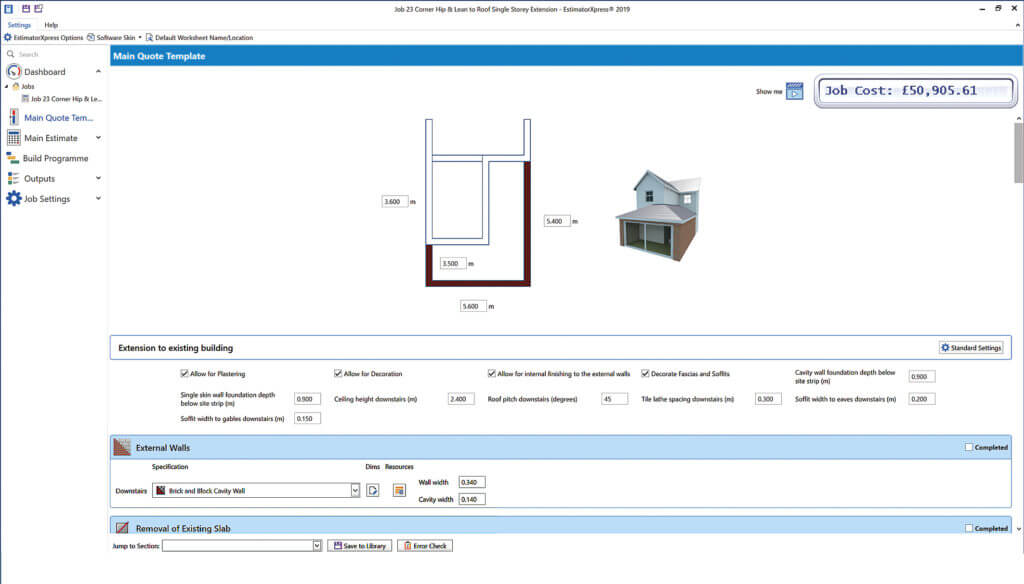 As you enter your dims, and tweak your specification and resources on screen, estimating calculators are busily pricing up materials, labour, plant, wear and tear, and wastage, showing you the live total cost as you go.
JOB DETAILS AND PROFIT AT A GLANCE…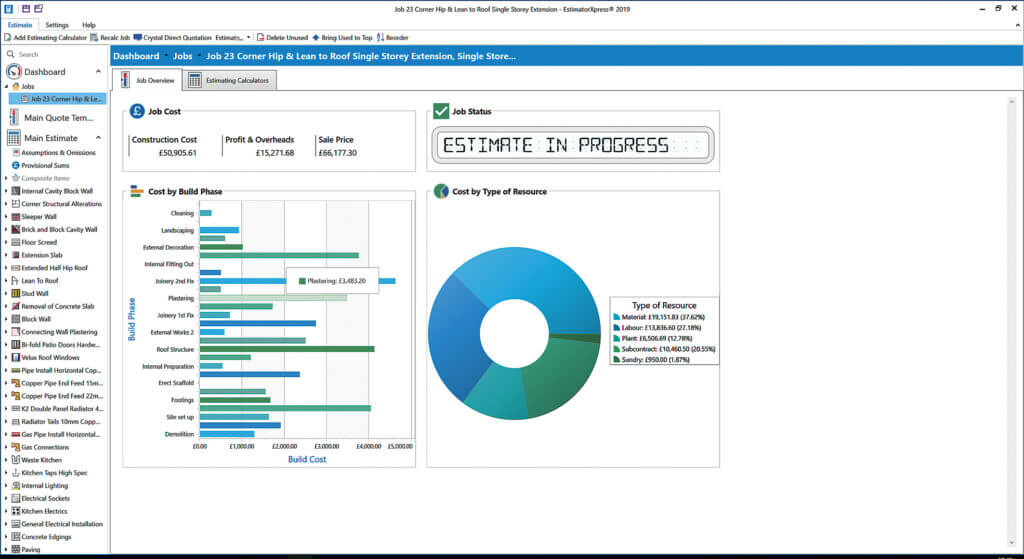 …for the most profitable outcome. Check on status, overall cost, profit and price to the client. The editable build programme is automatically produced, as are all the reports like the materials list and labour schedules.
TAKE A LOOK AT THE OTHER GOALS IN THE HBXL RE-START ACTION PLAN
There are lots more ideas on getting business-ready for when we 'come out of the other side' here >>
THE NEXT STEP
So if you want your re-start to be a positive one, then have an online demonstration with one of the HBXL Building Software team. We've made lots of hour-long slots available. And if you have more time available at your end, you could trial the software for 14-days. We're here, ready to chat on 0117 916 7898. Your building skills. Our building software. Together, let's build a great business.
---
---